HISTORY
AKNAS is the working name of AKNAS Watchbands & Trading Co., Ltd, a Bangkok based, Thai-French, high-end manufacturing workshop specializing in exotic leathers.
Starting in 2001 with exclusively producing watchbands for Swiss and North-American luxury watchmakers, owners and collectors, the small but very specialized facility was immediately recognized for offering the highest quality and widest color range of deep-dyed galuchat (stingray leather), together with an unparalleled level of workmanship for this extremely complex material. The other exotic leathers used by the workshop are python and crocodile.
In 2005, building on this initial success, the workshop started producing small exotic leather accessories for women using its unique know-how, continually improved through R&D and became known for producing designs in galuchat until then deemed either impossible or lacking finesse.
From 2007, it could propose OEM, ODM and Unfinished services to its clientele of brands and designers from around the world. Historically bent on quality, the following years saw the creation of a silversmithing department, of breakthrough manufacturing techniques such as "groove-stitching" and the development of Men's lines.
Since 2011, the workshop has been developing its own "galuchat" retail brand, Atelier AKNAS, in Japan and Europe.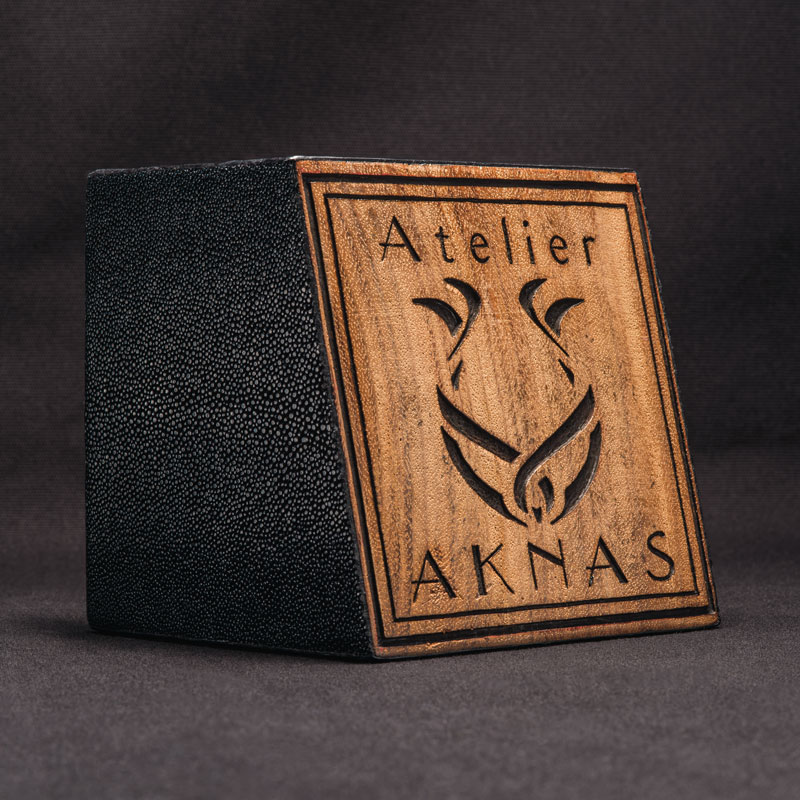 CITES ( www.cites.org )
The Convention on International Trade in Endangered Species of Wild Fauna and Flora, a.k.a. Washington Convention, is a multilateral treaty protecting endangered plants and animals since July 1 , 1975.
Its aim is to ensure that international trade in specimens of wild animals and plants does not threaten the survival of the species in the wild, and it accords varying degrees of protection to more than 35,000 species of animals and plants.
Because it is a moral imperative, a sound sustainable approach to business and the law, AKNAS scrupulously abides by the convention.
Our clients who start working with exotic leathers will need to obtain an import permit through their country's relevant administration (contacts on the CITES website).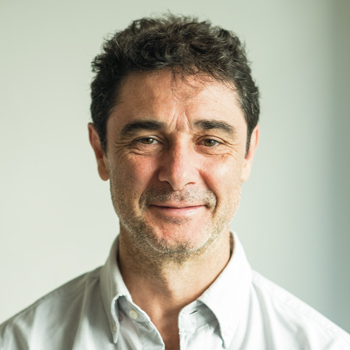 Stéphane MESNIL
Chief Designer, Engineer & Co-founder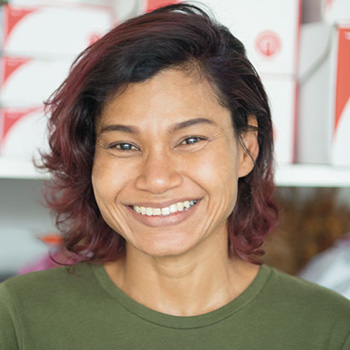 Arunee "Nah" WONGARAM
Chief Designer & co-founder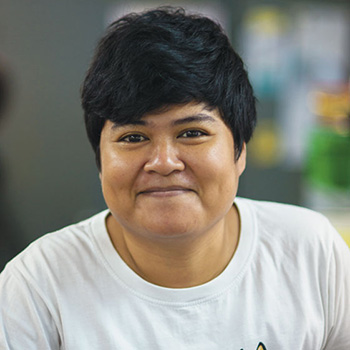 Salaphan "Kae" WONGARAM
R&D Director, Head of "Wearables" Department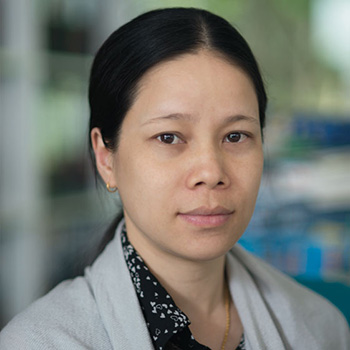 Porntipun "Nuch" PERMPOOL
Administrator Extraordinaire & Financial Director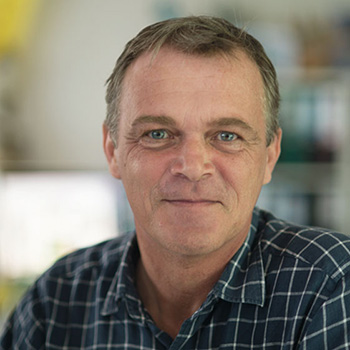 Cyril CLAIRE
Business Development & Wholesale Director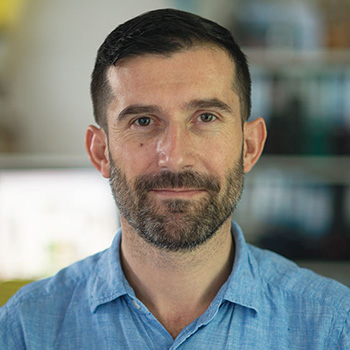 Benjamin FOUÉRÉ
Marketing & Retail Director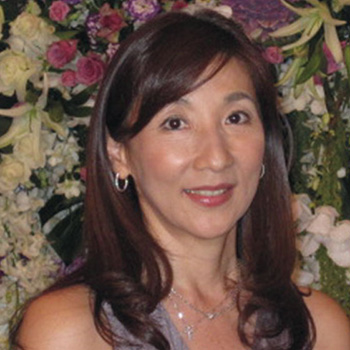 Kumiko SUITO
Japan Representative
ATELIER
The workshop, or "atelier" in French is a three-floor building in the north of Bangkok. It is opposite our office and the two are in a yard they share with Nah and Stéphane's house. It is compact, self-sufficient and the perfect configuration to ensure a continuous control chain from mood board to shipment. It is split in 6 departments, from left to right and top to bottom on the picture:
Home decoration (trays, boxes, furniture,...)
Quality Control
Small & medium leather goods and handbags
Stock
Silversmithing
Cords, straps and wearable accessories
Expectations are very high, but the atmosphere of the workshop is warm and friendly. The management model set in place by Nah and Stéphane has paid: over 50% of the craftsmen have been there since the company's creation in 2001.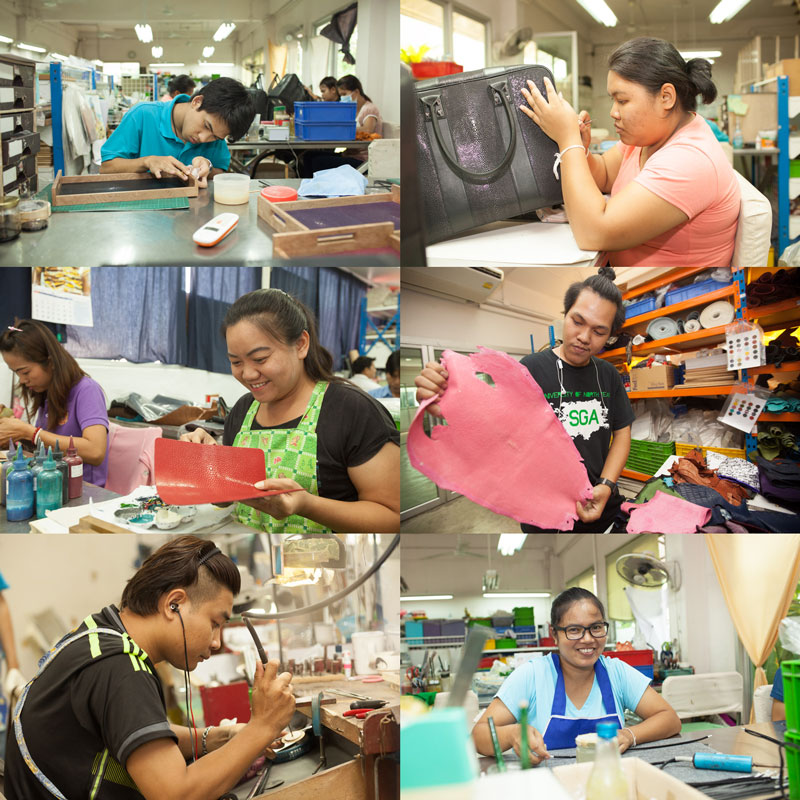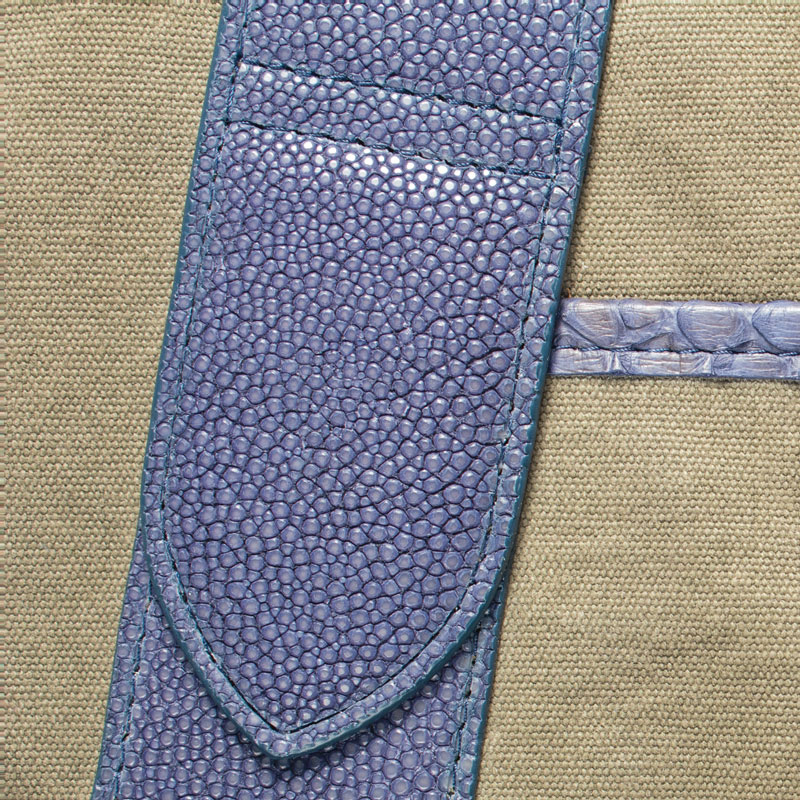 KNOW-HOW
or "Savoir-Faire", preferably evolved over centuries, is a very French approach to pretty much everything. AKNAS being half French, it is not surprising to find it at each step of the production of any creations of the workshop.
Each employee of the workshop was hired because of a very specific and deep craftsmanship they already mastered. Their first 6-months with us is an in-house training that allows them to participate in the elaboration of the same design whether in paper-thin python, average-thick crocodile or mind-bending tough stingray with a sustained and reliable quality of outcome.
This combination of Know-Hows, the quality or our leathers and our continuous quest for better techniques and quality is what makes AKNAS so particular.