EXOTIC LEATHERS
Although AKNAS uses a variety of skins, we mostly work with three types: python molurus, crocodilae and stingray.
The latter is the hardest known leather as well as the most complex to work with. It is also our signature crafting material.
Each skin has its own particularities in touch, texture or pattern. They are selected from our stock and cut with the object or part they will become in mind.
The skills required to choose and cut the right skin - as specific as the skills needed at each stage of the production of an AKNAS design - are age-old, immense and unique.
The degree of precision our master-craftsmen constantly display is only matched by the traditional know-how visible in the best European handcrafted leather goods.
Our skins come in a wide variety of colors:
29 stingray colors
12 python molurus colors
13 crocodilae colors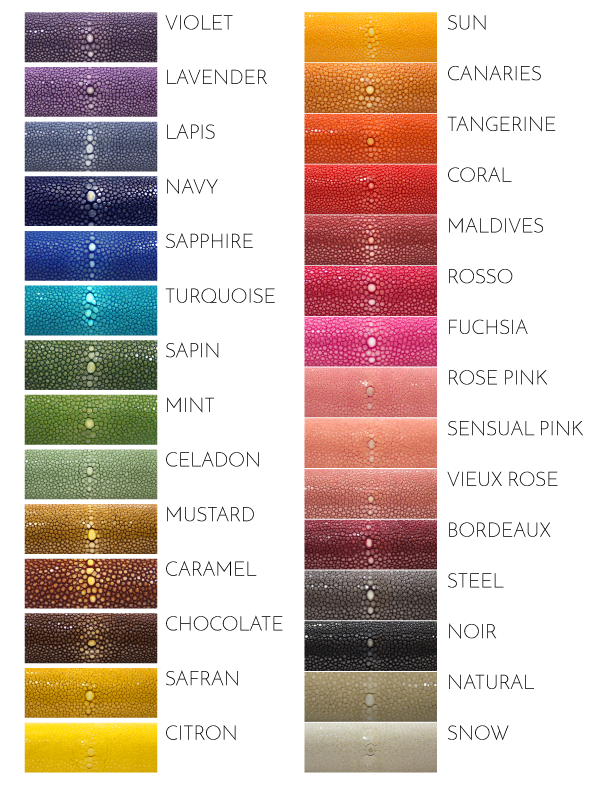 AKNAS continuously develops original finished or semi-finished designs and makes them available to designers, retailers and brands to be personalized and branded.
We have a large catalogue of designs ranging from rings, bangles and bracelets, to wallets, purses and handbags. this catalogue is available here or from the link in our website's main menu.
They come with very low MOQs of 3 to 12 pieces per design (colors & skins can vary), which depends on their size (the smaller designs, the higher MOQ).
Start using our OEM service today: aknas@aknas.com!
AKNAS has made a name in manufacturing and co-developing for designers and brands.
We produce products from blueprints and specifications
or
produce patterns from drawings, suggest assembly materials and manufacture prototypes.
Being a very flexible, highly responsive and deeply understanding platform makes using AKNAS as your manufacturer a straightforward process.
Don't wait to submit your ideas to our ODM service at aknas@aknas.com!
UNFINISHED
Our unfinished department has seen more and more demand from designers and jewelers over the years.
Just as with our OEM or ODM departments, either choosing from our catalogue or submitting their own idea, we produce for them tailored unfinished items of the highest quality.
We thrive on challenges and rarely turn them down, let's start the discussion!